Denis is working on his PhD on the ecology of Cross River Gorillas. The Cross River Gorilla is a distinct sub species of the lowland gorillas, found in the highlands bordering Cameroon and Nigeria.
Denis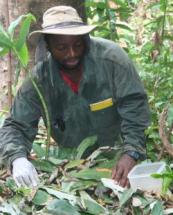 became engaged in gorilla conservation when working for an NGO in Cameroon after he finished his bachelor studies. During this period, he also had an awakening:
'You can't look at the survival of the animals without looking at the survival of the people - they are interlinked'.
When he witnessed a human induced natural disasters as a result of the overuse of land, he felt the need to search for solutions that would protect both people and nature.
"I felt that something was needed. Something beyond the government taking notes and sending reports to TV, sending some blankets and a week's worth of rice to people who are homeless and whose houses have been destroyed. I thought there is supposed to be something else, something new."
After finishing a Master in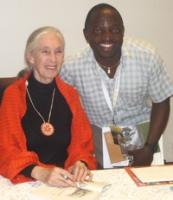 Human Ecology in Belgium, Denis went back to Cameroon to do his field research for his PhD. For two years he lived in the rainforest documenting the feeding ecology of gorillas. He also measured the intensity and type of human activity that occurs in that habitat, so as to be able to come up with strategies that will help both the animals and the people who are very dependent on using the habitat for their livelihoods.
"There are less than 320 Cross river gorillas left in the world. They are at the brink of extinction if we do not do anything."
Living in Antwerp now to analyse his data, Denis continues to work on gorilla conservation and contributing valuable information and insight about these animals.
"All of these influences, reading, learning from my father, and my own experiences have made me fall in love with these animals, and that will never leave me"
See more about Denis and the Cameroon rainforest here
and about the bushmeat and community building here