Mattias was raised in an environmentally aware way by his parents. "Back in those days though, it was not very popular. Most people didn't realise the need to change for the environment… Everything is much more simple now"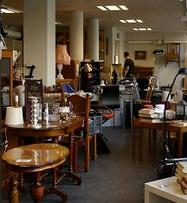 Mattias has spent the last 15-20 years restoring and giving old furniture a second or third life. He sleeps, lives and breathes furniture. His passion is to save as many of them as possible from ending up in the dump: burned for energy or put in the landfill.
"People often don't know the difference between reuse and recycle. Burning a table for energy, that's recycling, whereas fixing it up and selling again, that's reuse"
When Mattias spots a discarded item, you see 2 reactions. First, his eyes light up: it is like he has found a treasure. Second, there is a hint of sadness: sadness that someone would throw something still usable and of value in the trash.
"When you take down a tree, the wood itself can last for 500 years. Today we use it for 5 years"
Old furniture are our cultural heritage. They have a story, and they are made from virgin materials that can last for hundreds of years. The process of creating a new piece of furniture is extremely energy, water and material intensive. Parts of one furniture are collected from many places in the world assembled far away and brought to a shop. Then people get bored with their furniture and throw them away. The current system makes no sense to Mattias at all.
"If we can cut down on producing new things and in turn reuse, repair and redesign, at a massive global scale, we could really have an impact"
Visit Mattias' refurn online furniture shop
See more on Mattias' work