Cristina's work and career, as well as her life, has been a journey of sometimes unexpected adventures.
After finishing her studies at Yale, Cristina worked in New York in Advertising, but returned to Italy in the eighties to work on a book on packaging design. Her plans to go back to New York were changed when she got involved in Italian television, where she worked for over a decade, covering stories on culture, art and entertainment.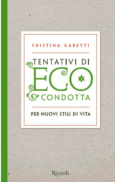 When she was pregnant with her third child, she left television for some time to pursue writing a book on sustainable living. It was a personal project as she herself became busy with looking for sustainable solutions and moreover, inspiration. She was also curious on how to bridge the gap between our intentions and our actions. The book
Tentativi di Eco Condotta
(Eco Endeavours for the life-loving consumer) came out in 2008 and it was a huge success: five editions were published in just the first 7 months. The focus of the book is a look at individual scenarios. It follows different characters that most people can identify with, on their journey towards sustainability.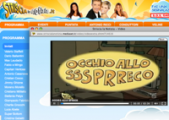 The release of her book opened up different opportunities. She was speaking at conferences and schools, and soon after returned to television. Since then, Cristina creates, writes and host a weekly TV segment,
Occhio allo Spreco
, on domestic ecology for
Striscia la Notizia
, the most popular, long running show broadcast on Italian Canale 5. The show reaches 7-9 million viewers, so it is safe to say that her practical, easy to access solutions and information on sustainability are reaching people.
"We have to get sustainability our of its niche and to the mainstream"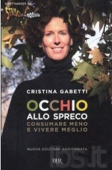 Cristina's energy, curiosity to discover more about sustainable solutions and communities, and her drive to reach people, means she did not stop there. So in addition to working on her weekly TV segment, she has published two other books.
Occhio allo Spreco
, carrying the same name as her TV segment came out in 2009. Like Tentativi di Eco Condotta, the book focuses on solutions, but it takes a more collective approach looking at communities and actions.
Then in 2010, the children's book
Tondo come il

Mondo
came out. 100.000 copies of the book have been distributed in elementary schools throughout the country.
Cristina has made an amazing contribution to the process of mainstreaming sustainability, in a light hearted, positive way, without falling into the trap of becoming superficial.
"I try to convey how or bring across how exciting the journey is once you've made that shift towards sustainability"
Read more about Cristina here
Watch Cristina's TV segments here