Q: Where do you buy your food?
There is a fantastic organic shop in my neighbourhood in Paris called
Le retour à la terre
. Catherine Chalom, who started the shop, used to work as an engineer for Renault and who then changed her life, started farming and opened this place. A lady with ethics, a story and a real activist.
And I get my bread locally at
L'autre Boulange
. Organic bread, simpler and better quality. It is cheaper in the end to buy nutritious bread, and to eat reasonable quantities. Have you ever noticed how you are still hungry after eating a classic baguette?

Q: What books would you recommend?
Confessions of a radical Industrialist by Ray C. Anderson. It tells the story of Anderson, who decided to take his highly impacting carpet company on the difficult but rewarding hike up what he calls Mount Sustainability. His "aha" moment occurred when reading another key book, The Ecology of Commerce, by Paul Hawken. Anderson and Hawken both demonstrate in different ways that with the will to change, you can change.
Then, two absolute reads that take you by the hand and discuss the incredible economic positive changes that are occurring: The Mesh by Lisa Gansky and What's Mine is Yours, by Rachel Botsman. They focus on network-enabled collaborative consumption and sharing initiatives, or what Jeremy Rifkin coined as "The Age of Access".
Finally, Cultural Creatives: How 50 Million People Are Changing the World, by Paul H. Ray Ph.D. and Sherry Ruth Anderson. It is a reassuring and very interesting read: you realise you are not the only one thinking that the world is too complex for linear thinking now. To be smart in the global village means thinking with your stomach, thinking rhythmically, thinking organically, thinking in terms of yourself as an interwoven piece of nature.
Q: How do you avoid packaging waste?
I make my own linen bags out of old bed sheets and covers, and I always take them with me to go shopping. I have a reusable water bottle, and I buy in bulk.
Q: Another good tip?
For exa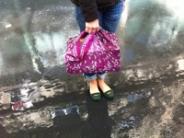 mple, I have a furoshiki which is a simple square piece of silk I bought for dollar in a second hand shop. I can use it as a scarf when I am cold, but I also use it to carry my personal belongings, or books, or bottles. The Japanese folding techniques allow you to adapt the "bag" to what you need to carry. Practical and original.